ALLIGATOR ICE
Alligator Ice Provides:
WOW tasting products. You will not find another slush brand that offers such a wide variety of best selling flavors.

Great looking Point of Sale and store signage. Their great looking graphics will first get your customers to try our products. The great taste of the products will keep them coming back.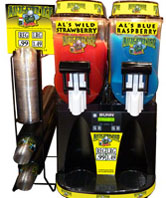 Add excitement to your location!
A complete set of beverage programs that catch the eye of your customers.

Fun flavors and cool colors.
We are excited that you are interested in our branded programs. We look forward to working with you to help build your Frozen Beverage Category.
Download the Conversion Order Form for Alligator Ice Slush
Download the Equipment Buy-Out Order Form for Alligator Ice Slush
Download the New Machine Program 2016
To learn more about this program, contact sales@capitalcandy.com or SIGN-UP today!